Olivia Kennedy Butash was born on Friday, March 28, 2014
at 8:31 PM to proud parents Ryan and Erika.
Olivia died unexpectedly in her sleep at her home on September 19, 2015.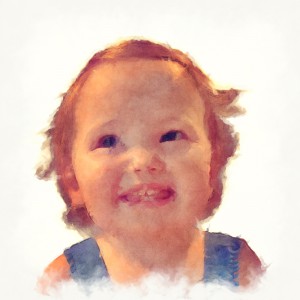 When we think of Olivia we are overwhelmed with the joy that she brought in to our lives. Everyone always asked "Is Olivia always this happy?" or would say things such as "I have never seen her cry or be crabby." The truth is that Olivia was always happy and always smiling.
The one thing that Olivia liked to do the most was read books. We started reading to her during the day and at bedtime from a very early age. As Olivia grew she became more and more interested in books and reading. Olivia's first two favorite books were "Brown Bear, Brown Bear, What do you see?" and "At the Zoo," which might be why she became so obsessed with animals. She knew all of the sounds the animals would make. A snake says "ssssss" a monkey says "ooo ooo ahhh ahhh eee eee" and a cow says "booooo". Olivia insisted on kissing the animals on the pages of her books.  She was such a lover.
Looking back at the things that we did with Olivia, we can say with certainty that she lived a very full life. We took Olivia to swimming lessons, the petting farm at Kensington, the cider mill, boating, to the park, on an airplane to visit Grandma and Grandpa Koski in Florida. While in Florida, we were able to visit Walt Disney World where Olivia met several famous people; Winnie the Pooh and friends, Alice in Wonderland, Cinderella, Belle, Ariel, Milan and of course Minnie or "Mimi HaHa" as she would say.
Olivia had two toys that she absolutely loved. Minnie was her daytime "lovey" and "Monkey" was her nighttime "lovey". Those were her calming friends when she needed someone to cuddle other than Mama or Dada
The real celebrity in Olivia's life was without a doubt her Mama. From the time Olivia was conceived Erika's life centered on Olivia. She had the best motherly instincts. Nursing Olivia daily until the day she went to heaven. Making all of her baby food from homemade organic fruits and veggies, and of course giving her lots and lots of love. We did everything together with Olivia; we changed her diapers together, we gave her baths together, and we read stories to her before bed together. While a lot of couples split theses duties up, we always did them together. Olivia was our 100% complete focus. We are so thankful that this is the way we raised Olivia.
Ryan was always alone with Olivia in the morning as Erika left very early for work. When Ryan would get Olivia each morning he would sneak into her room, turn her lamp on and as he entered the room she would simply say "Hi" or "Hi Hi Hi Hi" and his favorite "Da Da Da Da Da". While she was still drowsy Ryan would rock her in the chair and give her lots of love before changing her. Olivia and Ryan would have breakfast together and send Mama several pictures and selfies to say hello. Olivia and Ryan had their special times together but nothing compared to the time spent together as a family.
Olivia loved playing with her Mama, Dad, Grandparents and Aunt Sara.  However, our best memories involved reading her books. Olivia would grab a book, bring it over and plop in your lap so you could read together. We would ask her to tell us the colors, have her count the items (up to three), and ask her to make the animal sounds.  Olivia would smell the flowers on the pages and point out the moon in each book.  When we read Olivia bedtime stories in her room as soon as she would see a moon in a book she would get distracted and need her night light on that would shine stars and the moon on the ceiling. Olivia had to be sure to see the moon.  She was simply just an amazing child to spend time with.
We attribute this habit to her vast vocabulary of well over 100 words.  Olivia had a huge vocabulary for a toddler that wasn't even 18 months old yet.  To give you an idea of her vocabulary we put together a list of memorable things she would say or do…
Mama
Dada
Car
Truck
Du for Duggan
Dog
Cat
Arrf Arrf
Meow!
Boooo! For cow
Choo-choo for train
Hssssss for snake
Ooh ooh aah ahh eee eee for her monkeys
Neigh for horse
Roar – for lion, tiger, and bear
Ba ba for sheep, lamb, and goat
Cheep cheep for chicken
Duck duck for duck
Was was was for Pig
Up da do for up or open
Hi
Bye Bye
Night-night
Love you
High chair
Hotdog
Milk
Hot
Burr
Cheers
Nic-nic – for picnic
Duck
Meme "haha" for Minnie
Blue
Yellow
Pink
Pur for purple
Geen for Green
Black
White
Moon
Star
Heart
O for Olivia
Rafe for giraffe
Knowing all of her books by the spine
Rock
Chair
Light
On
Off
Deer
Ball
Meat
More
Toon!
Bit-bit for Fitbit
Hat
Fork
Bib
Plate
Rub, rub, rub
Dry, dry, dry
Brush
Teeth
Ears – listening ears
Hair
Noise
Mouth
Tongue
Knee
Back
Toes
Foot
Hand
Fingers
Tummy
Belly Button
Smile
Bike
Wagon
Stroller
Outside
Swing
Weeeee
Swim
Bee
Melon
Berry
Home
Door
Nak, Nak, Nak – for snack
No, no, no
What does Dada say? "no, no, no"
What does Mama say? "no, no, no"
What does Olivia say? "no, no, no"
Olivia was so obsessed with books and reading that she knew all of the books on her bookshelves, just by looking at the size and shape.
Some of Olivia's other favorite things outside of reading included: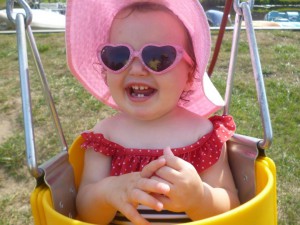 Going for walks in her tricycle.  Olivia loved being pushed around the neighborhood in it and down to the park.
Going on the swing at the park and saying "Weeeeeeee" and wanting Mama or Dada to swing in the swing next to her.
Obsession with saying "hi" and "bye" to the deer mounts and needing to kiss them and tell them night-night..
The moon.  To Olivia a water tower was a moon and the lamps at checkout lines where the moon.
Ducks! Olivia loved seeing ducks. She would say duck duck duck duck. This obsession started at the lake house we rented up north in July 2015.
Referring to several of her toys as "hat" as she tried to balance them on your head or hers all the while having a big smile on her face.
Pink heart shaped sunglasses. From a young age, she would put them on and walk around smiling.  Olivia had to have them in the car, on walks, on the boat, when playing outside, or when reading a book!